07 Jan 2019
In previous posts, I have shown how to visualize both the dot product and the wedge product of two vectors as parallelogram areas. In this post, I will show how the dot product and the wedge product are related through a third algebraic product: the geometric product. Along the way, we will see that the geometric product provides a simple way to algebraically model all of the major geometric relationships between vectors: rotations, reflections, and projections.
Before introducing the geometric product, let's review the wedge and dot products and their interpretation in terms of parallelogram areas.
Given two vectors, a and b, their wedge product, a \wedge b, is straightforwardly visualized as the area of the parallelogram spanned by these vectors:

Recall that algebraically, the wedge product a \wedge b produces an object called a bivector that represents the size and direction (but not the shape or location) of a plane segment in a similar way that a vector represents the size and direction (but not the location) of a line segment.
The dot product of the same two vectors, a \cdot b, can be visualized as a parallelogram formed by one of the vectors and a copy of the other that has been rotated by 90 degrees: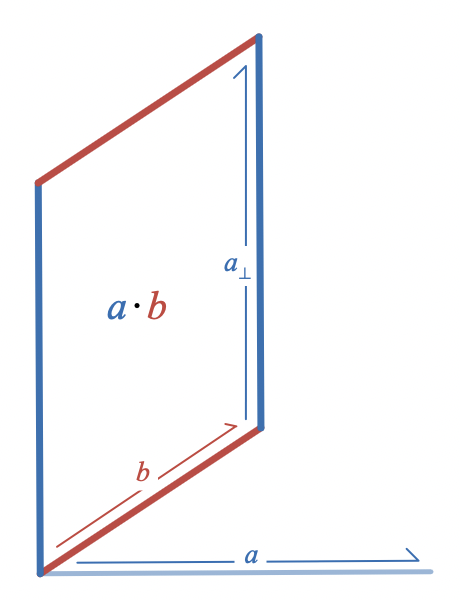 Well, almost. When I originally wrote about this area interpretation of the dot product, I didn't want to get into a discussion of bivectors, but once you have the concept of bivector as directed plane segment, it's best to say that what this parallelogram depicts is not quite the dot product, a \cdot b, which is a scalar (real number), but rather the bivector (a \cdot b) I where I is a unit bivector.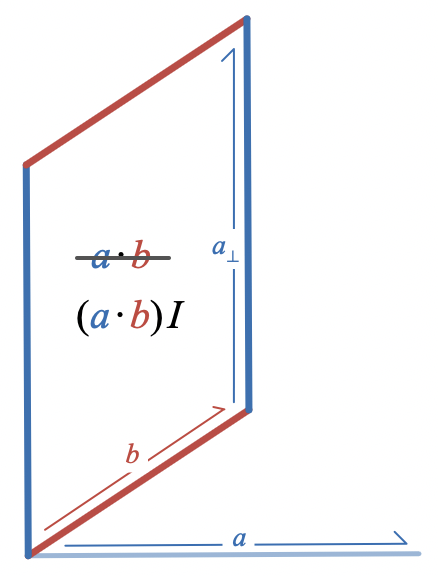 The scalar a \cdot b scales the unit bivector I to produce a bivector with magnitude/area a \cdot b. It's hard to draw a scalar on a piece of paper without some version of this trick. Once you're looking for it, you'll see that graphical depictions of real numbers/scalars almost always show how they scale some reference object. It could be a unit segment of an axis or a scale bar; here it is instead a unit area I.
Examining the way that the dot product and the wedge product can be represented by parallelograms suggests an algebraic relationship between them:
(a \cdot b) I = b \wedge a_\perp
where a_\perp represents the result of rotating a by 90 degrees. Since the dot product is symmetric, we also have
(a \cdot b) I = a \wedge b_\perp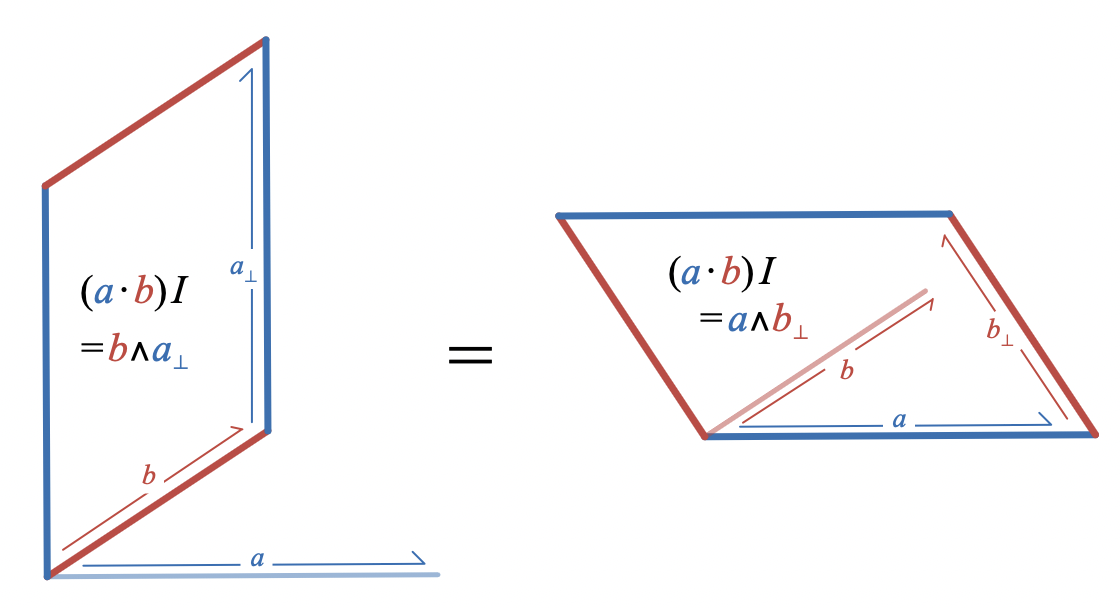 To really understand this relationship, we'll need an algebraic way to represent how a_\perp is related to a; in other words, we'll need to figure out how to represent rotations algebraically.